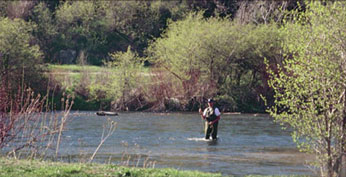 FLY FISHING is a sport with infinite possibilities. It is practiced around the globe in pursuit of almost every species of game fish. It combines rich traditions with modern technology and sound conservation practices. Fly fishing can be as simple or as elaborate as you like.
Beginners are welcome. Milwaukee Lake and Stream Fly Fishers, Inc. are men and women with all levels of fly fishing skills and experience. We enjoy fly fishing for everything from bluegills to bonefish in environments from small ponds and streams to the oceans. What we have in common is a dedication to sportsmanship and conservation, and the personal enjoyment which comes from the sport of fly fishing.
We are a fishing club. Our first goal is to increase the enjoyment we all get from fly fishing. We do this by learning new skills, sharing knowledge with fellow members, and fishing together. Our second goal is to educate the public about fly fishing. Third, we support environmental projects that benefit lakes and streams in Southeast Wisconsin.